And the winners are...
March 24, 2022
Members of the Bates Security / Sonitrol of Lexington team were recently recognized by Sonitrol at the SNDA event for outstanding achievements and we couldn't be prouder of this amazing group!
We are thrilled to share that Bobby Klaiber won Sonitrol's ULTIMATE SALES WARRIOR! Bobby took center stage in front of his peers from across the country in Nashville at the recent SNDA event, where he was named #1 WARRIOR – RMR Category, #1 CHIEF, TVC Category, #1 SCOUT Category and #2 BRAVE Category. During the event Randy Hutchinson was also recognized as #1 BRAVE Category and as a Top 10 SALES WARRIOR. If you are one of Bobby's or Randy's customers, you know that they are truly deserving of these awards and recognition. Their hard work, respect, and dedication to the Sonitrol brand has not only made our company successful throughout Central Kentucky, and it has also showed they are among the best in the industry. Congratulations, Randy and Bobby! We are so proud!
Congratulations to the Finance Department's Nathan Wilhite on being named the Sonitrol National Dealers Association Spirit of Excellence Winner. Nationwide, people were tested and those who scored the highest received awards by SNDA at the event held in Nashville. Nathan was recognized for his drive, determination, and attention to detail. Thanks for your hard work and congrats on a job well done, Nathan!
Truly, a highlight of the event was the recognition of two of our brightest stars: Human Resources Manager Stacy Vogan, who received recognition as an Unsung Hero for her knowledge, help and guidance, as well as her Seek and Grow attitude during Covid-19 helped our company during a very difficult time. We'd also like to recognize IT Manager Mark Sturgill as an Unsung Hero for accomplishing the seemingly insurmountable task of shifting approximately 100 people into Work from Home mode. Mark singlehandedly figured out how we could operate the company virtually. Through Marks's hard work and perseverance in doing what needed to be done, we were able to continue moving forward and keeping our customers happy. His Leadership and Accountability were the keys to our success. We're proud to showcase the talents of amazing people like Stacy and Mark!
Bates Security / Sonitrol of Lexington was thrilled to receive so many awards throughout the SNDA event. While all awards were earned through hard work, dedication and relying on the company's Core Values, when President Jeremy Bates was announced as the recipient of the World Class Award, it was recognition that was truly deserved. According to Mary Haley, SNDA Executive Director, the award is "given to someone who promotes the vision and goals of the SNDA and the Sonitrol culture." As a result of the leadership by Jeremy Bates, a person who cares deeply about our customers, company, and community, Bates Security / Sonitrol of Lexington continues to be a frontrunner in the industry throughout Central Kentucky.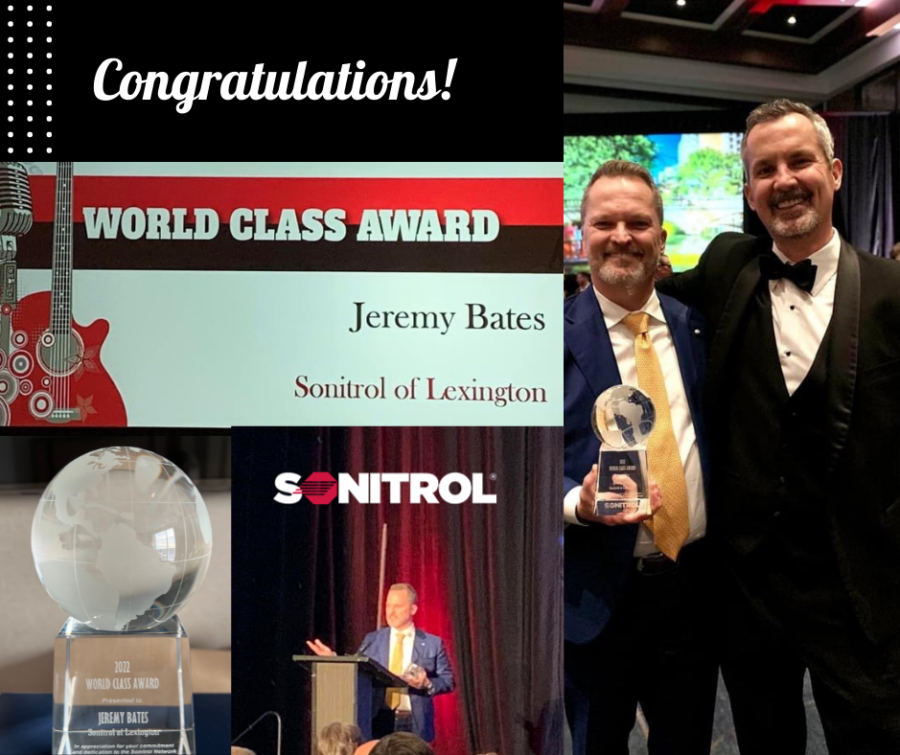 Get security tips automatically